This page contains affiliate links to products. We may receive a little commission for purchases made through these links at no extra cost for you.
How to reduce bounce rate improve conversion and website traffic with Popular Posts Lists in WordPress
If you have a blog or an eCommerce website, your daily challenge is to increase traffic, engage your users, and offer them a pleasant experience to make them stay longer on your pages and convert more. Are you looking for a way to obtain all these things, with just one plugin?
The solution comes with MonsterInsights, considered the best Google Analytics plugin for WordPress, and the new Popular Posts function, integrated into the release 7.13. Let's find out more.
What is bounce rate and how it affects your site?
According to Google, a website bounce rate is the percentage of all sessions on your site in which users viewed only a single page and triggered only a single request to the Analytics server.
A high bounce rate usually means that a site is not so relevant to website visitors. And if pages are not relevant, you can't expect any conversion, sales, or leads. On the other hand, if users stay on a page for a longer time, it means that they have found exciting content to read.
Lower the bounce rate is extremely important also to obtain better indexing on search engines, so it's one of the SEO Ranking Factors for a site.
As it is easy to understand, the main objectives of a site are to involve users, increase page views, and consequently reduce the bounce rate.
The more we engage a user, the more chances we have of obtaining conversions (e.g. subscription to the newsletter, purchase of products or services, etc.).
The plugin MonsterInsights with the Popular Posts features helps in all this, improving website performance.
How MonsterInsights Popular Posts works
Content is one of the ways to engage users. And with MonsterInsights Popular Posts feature you can help your visitors find the most interesting articles on your website and the popular products on your eCommerce.
How? By integrating them in your posts and pages. This way, they will be more visible to your users.
You have 3 ways to display popular posts and products:
1. Inline Popular Posts: posts are shown within the content of your text.
2. Popular Posts Widget: you can select up to 10 articles and publish the widget wherever you like, also in the sidebar or at the end of the post.
3. Popular Products: for highlighting the most popular products on eCommerce sites and increasing the chances of selling.
How to select posts and products to show on your pages?
MonsterInsights allows selecting popular posts and products in different ways.
For example, you can choose the most commented posts of the last 30 days. Or, with a SharedCount account, you can select the most shared content. With this free service for counting social shares, it's easy to track social URL shares, likes, and more.
Of course, you can also indicate popular posts and products manually. This option is useful, for example, when you want to address users to a conversion funnels or sales funnel.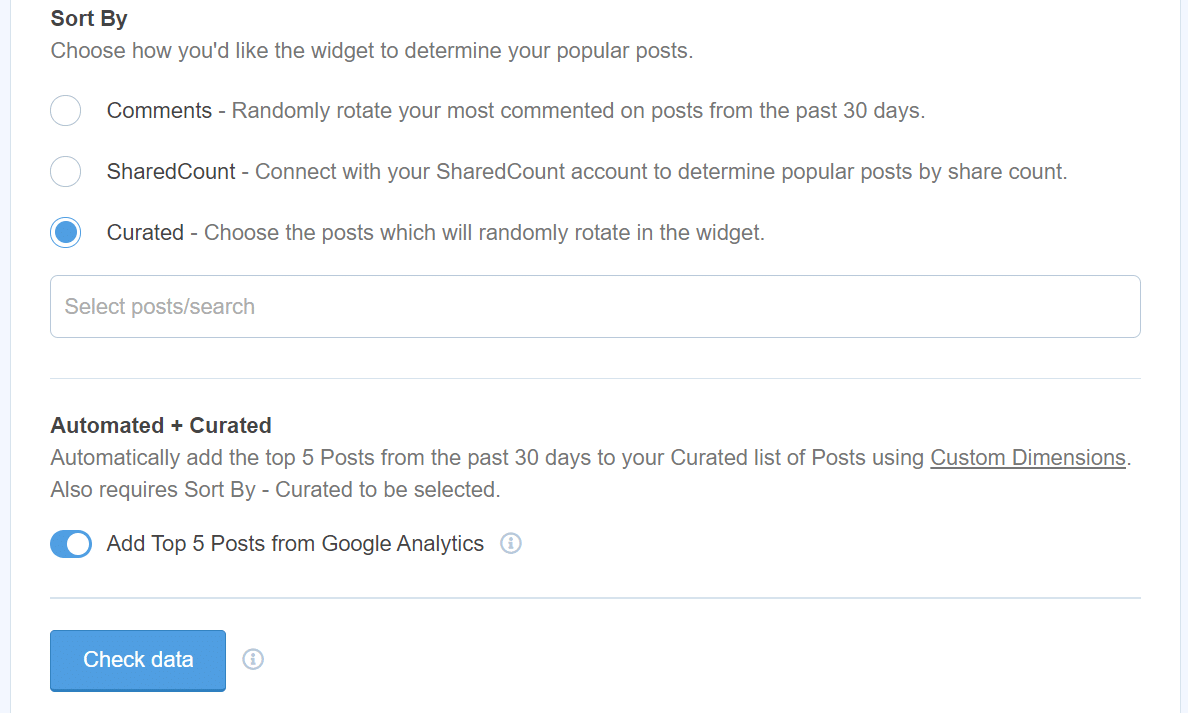 Finally, by activating the MonsterInsights custom dimension function, you can also combine Automated + Curated, automatically showing the most visited posts in the last 30 days based on Google Analytics data.
Popular Posts vs Related Posts
With the Popular Posts feature, you are not showing related posts and products, but precisely those posts and products that you want your users to see. Indeed, even if your website is well-organized into categories and has clear navigation, users often do not find the information they need to stay on a site.
The ultimate goal is to give users good reasons and good content to stay, and thanks to MonsterInsights, your whole site is more visible!
Popular Posts list in WordPress: manually or automatically?
Although it would be possible to do it manually, with Popular Posts by MonsterInsights, you save time and start right away benefiting from a more performing and attractive website.
Moreover, MonsterInsights Popular Posts offers customizable templates to showcase popular posts and products. This way, they will appear perfectly integrated into your WordPress site.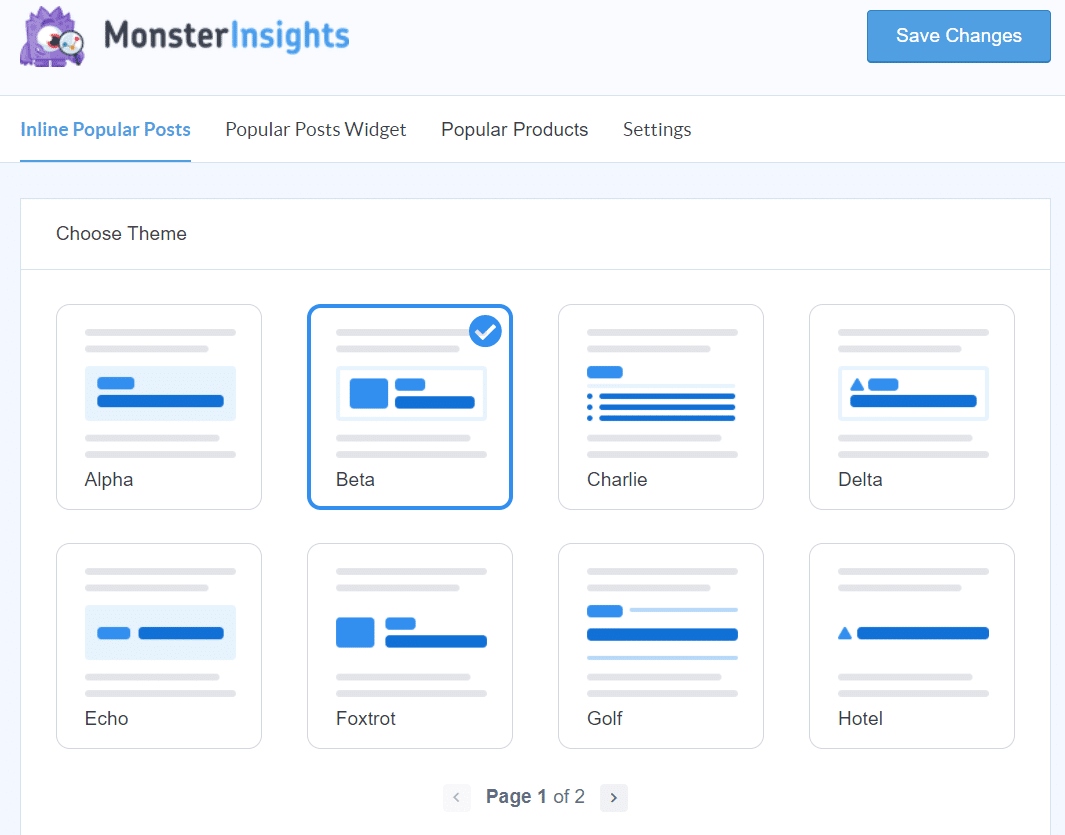 Conclusions
To increasing your site traffic and conversions, improve your site's ranking, engage your users, and decrease the bounce rate, the solution is to make the most popular and interesting content on your website accessible.
In these days you can find a special offer and save 50% OFF on MonsterInsights (money-back policy 14 days). Click here for more detailed information