This page contains affiliate links to products. We may receive a little commission for purchases made through these links at no extra cost for you.
Improved MonsterInsights eCommerce Addon with GiveWP and Restricted Content Pro
Suppose you run a small or large eCommerce website for your business. In that case, you may wonder how to improve your site and make available features like collect donations for a good cause and offer exclusive subscription content.
It can be hard to know where to start, and the possibilities are endless. As you might know, managing donations effectively and offering subscription content and exclusive access to select products are activities that need to be tracked with Google Analytics. But setting up Google Analytics on your WordPress site is not always an easy task; the same goes for finding practical solutions for donations and subscriptions.
A great plugin to simplify and help with each of these goals is MonsterInsights, considered by the WordPress community the best plugin for Google Analytics. This plugin has recently launched a specific integration with the famous GiveWP plugin for donations and Restricted Content Pro for subscription content.
Let's find out more about these new options that allow those who manage a site to offer a better experience to their audience while optimizing some typical services of an online business.
How the MonsterInsights eCommerce addon works and why it's so important
MonsterInsights is a powerful WordPress plugin for Google Analytics, built to make your life easier. This tool gives you the most comprehensive and easy-to-use stats for your WordPress blog and eliminates the hassle of implementing Google Analytics on your website.
Indeed, MonsterInsights allows you to connect to your Google Analytics account directly from your WordPress dashboard and displays essential information at a glance, so you don't have to waste time creating endless reports and dashboards.
At the same time, MonsterInsights integrates seamlessly with other Google services, allowing you to drill down into campaign data directly from your WordPress dashboard and see real-time results of each of those campaigns. Certainly, those who want to grow an eCommerce need to understand their audience, analyzing customer behaviors, and optimizing the online store to increase revenue. But why can this eCommerce addon also make a difference in donations and subscriptions?
New integrations with GiveWP and Restricted Content Pro
GiveWP is a well-known WordPress donation plugin that allows sites to collect donations, manage donors and create donation forms on the site in the easiest way possible.
On the other hand, Restricted Content Pro is a popular WordPress plugin ideal for site owners who want to offer exclusive content to their members, creating different subscription options and monitoring user management from a single dashboard.
MonsterInsights is constantly working on expanding the list of supported plugins. The new Addon integration with GiveWP and Restricted Content Pro demonstrates this commitment, allowing more than ever to understand how a blog or online store performs and if any fixes need to be made to improve the interaction between users and the site.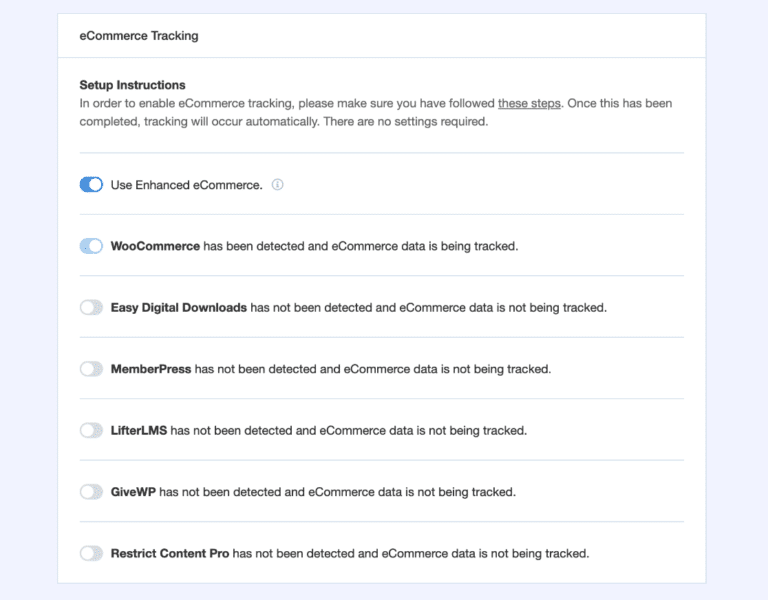 With these two new integrations, website owners using the GiveWP and Restricted Content Pro plugins can analyze data from their WordPress dashboard's comfort, save time, and receive helpful reports via email.
These new features are part of recent enhancements to the MonsterInsights eCommerce addon and Project Delight to deliver a simplified and effective experience. From more accurate reports to an even more intuitive dashboard: with the new MonsterInsights dashboard, you can make informed decisions and grow your business while focusing only on the data that really matters.
MonsterInsights Pricing
MonsterInsights is a data analytics platform created to help online sellers grow their businesses. This plugin can be installed in just five minutes, and you can start tracking your site's conversions right away, offering more engaging services and increasing conversions.
Each plan comes with a 14-day, no-questions-asked, money-back policy. You can try it for free! Plans start at € 99 for the Plus Plan. See all plans