This page contains affiliate links to products. We may receive a little commission for purchases made through these links at no extra cost for you.
Do you have a blog or an eCommerce site, and you're wondering how to monitor traffic sources more effectively with Google Analytics? Probably, every website's owner makes statistical analysis to determine the number of people who visit his site. And for sure, anyone with a site wants to know more precisely where visitors are coming from. Knowing this can be used to improve targeting of specific keywords and advertisements and make better your marketing campaigns to meet the needs of users.
Also, having an idea of where traffic is coming from can help you better understand how your content can continue to be tailored toward the right audience and also how you can optimize your online marketing. As you can guess, these activities are essential for making more effective decisions, measuring your activities more accurately, and understanding how to manage your resources and budget.
When you have a website or an online store, numerous activities should be followed to ensure you reach your goals. The whole purpose of having an online presence is to reach more people and get new clients or customers. For that reason, it is essential to have services that offer detailed statistics in real-time, and at the same time, are easy to read and use.
In this post, we see how to monitor traffic sources in Google Analytics with MonsterInsights easily. This WordPress plugin collects visitor data through Google Analytics and allows you to display it directly in your site's dashboard.
Why monitor traffic sources in Google Analytics
Every visitor to your site has their valuable data, and without that data, you wouldn't know anything about your visitors. Any site owner who wants to increase traffic and convert more needs to know who their audience is and how they are using their services. Here is where Google Analytics comes in. You can get a lot of information from Google Analytics, but one of the most important is how your users find and use your website.
Inbound marketers are always trying to strengthen their understanding of website visitors (the person) and traffic sources (the how), where they are coming from geographically, and what channels they are using. All of this information is useful for conveying more targeted messages through your advertising campaigns, designed specifically for your target audience. Also, through the analysis of traffic sources, those who have a blog or an online store can measure a campaign and decide to implement a strategy that focuses more on certain channels to get more results from a specific audience.
For bloggers, monitoring traffic sources is particularly useful to plan editorial strategy, with new content and topics based on users' interests coming from a particular channel. Finally, these analyses are essential to identify the gaps in your site, which channels are not working, and how to optimize your activities better. Relying on a single source of traffic is never a good thing, and it is fundamental to broaden your horizons by constantly attracting new niches of users.
Why use MonsterInsights to monitor traffic sources in Google Analytics
When it comes to using Google Analytics, though, many users find it complicated and confusing. The settings aren't that intuitive, and it's not always easy to identify just the data you need to make quick and effective decisions. So if you don't have much time and want to get great results, you can rely on MonsterInsights, considered the best Google Analytics plugin for WordPress.
This tool's strength is to integrate directly with Google Analytics bringing data, analysis, and reports directly into the WordPress dashboard. This way, it makes any insight faster. From the control panel, you can configure measurement campaigns, and for each of these, you can see real-time results, including how your visitors interact with your content.
MonsterInsights can be installed in just five minutes, and right out of the box, you can monitor your traffic sources in Google Analytics. You can find out more in this video.
With MonsterInsights, you can get intuitive overviews of all kinds of reports. For example, if you want to know more about your website or online store's overall performance, you can access the Insights panel, which provides an overview of the reports. Similarly, if you want to know what devices your users use when they visit your site, you can explore the Device Breakdown section.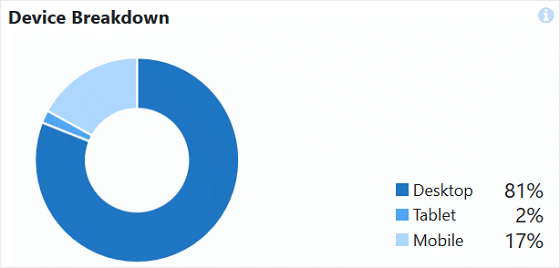 You can also identify which countries are getting the most traffic and, in this way, evaluate whether to translate areas of the site, offer specific content or create targeted campaigns for each country.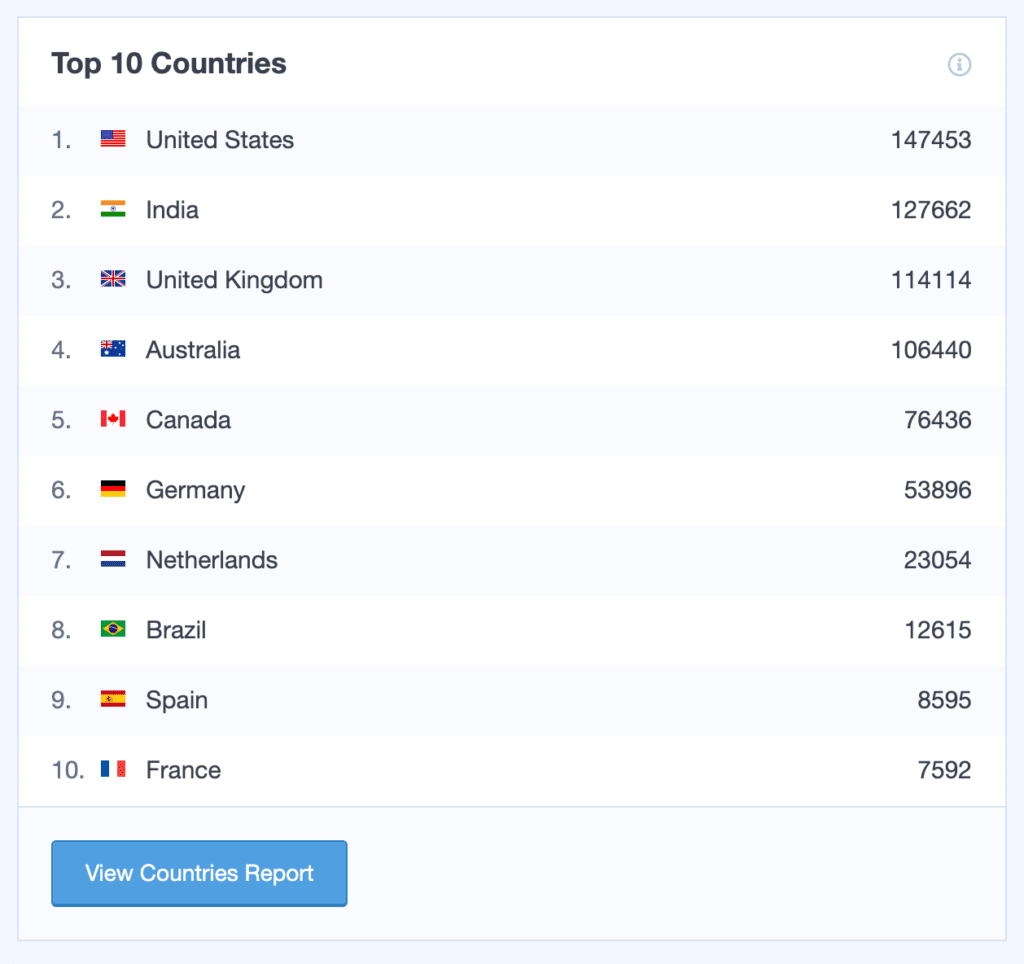 With so many metrics at your fingertips, you can also analyze the Top 10 Referrals – the sites from which the most traffic comes – and create partnerships with these key traffic sources or offer them remuneration through referral or affiliate programs.
On the other hand, the Search Console Report gives you an overview of the organic traffic and the most popular keywords used by users visiting your site. In this report, you can discover clicks, impressions, CTR (click-through-rate), and average site position for each specific search keyword. This tool is handy for planning new content and developing existing content, thus increasing organic traffic.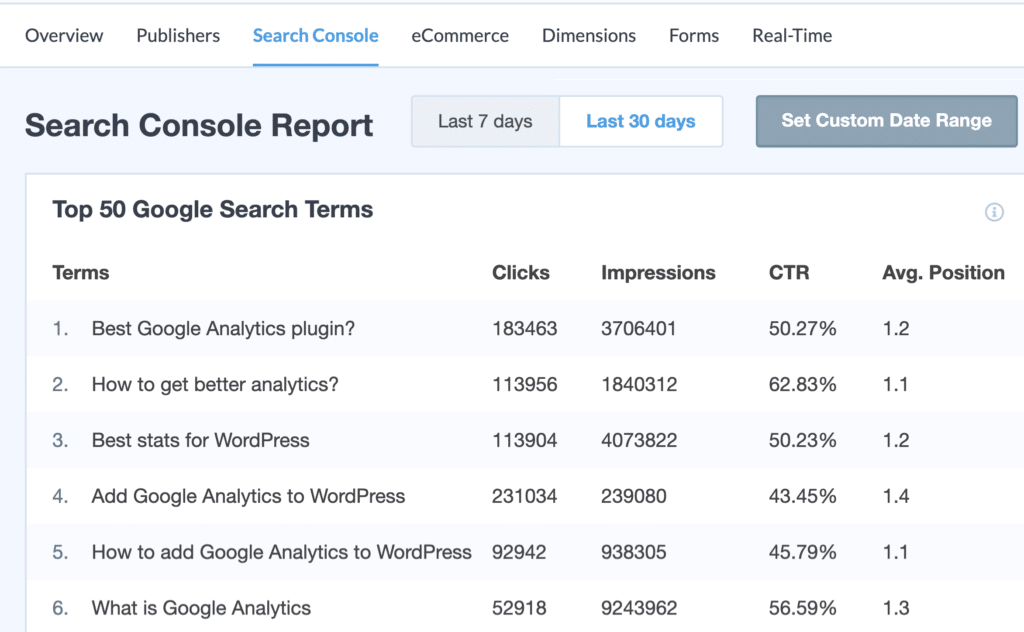 In this section, you can also explore traffic statistics and reports in real-time. This aspect is beneficial for those who have an eCommerce store and want to understand which traffic converts better and if the campaigns they have launched are proceeding as planned. Thanks to an analysis of the primary sources of conversion, you can also decide whether to offer exclusive promotions to the segments that convert the most and improve the user experience.
Of course, you can analyze and monitor your website's traffic sources on Google Analytics as well. But each time, you must leave the WordPress dashboard and go to the Google Analytics one. The steps to find the traffic report on GA after a while become more evident, but with MonsterInsights, you can save time and see stats without leaving the blog dashboard. This will allow you to spend more time adding content and less time manipulating data and gathering statistics.
MonsterInsights pricing and plans
MonsterInsights licenses start at $99 per year (50% off). The Plus plan is designed for blogs, small businesses, and publishers who want to optimize their online results and grow their business.
The Pro and Agency plans are dedicated to eCommerce sites, agencies, and large projects requiring more advanced monitoring and first-class support. See all plans