This page contains affiliate links to products. We may receive a little commission for purchases made through these links at no extra cost for you.
How To Set Up hCaptcha on WordPress: a free and privacy-focused alternative to ReCaptcha
Have you heard of hCaptcha, a popular and free alternative to ReCaptcha of Google? If yes, maybe you are wondering how to implement hCaptcha on your WordPress website easily.
Protecting websites from spam is very important nowadays. As you might know, website contact forms can maliciously be under attack to destroy or steal infrastructure or network data and also as a launch point for other attacks. The goal of these attempts is to find vulnerabilities that open the doors to cyber attacks.
Up to now, various solutions have been used to stop spam and identify if accessing a site came from bots or humans. Among the examples of these instruments, we can find simple math calculations (addition or subtraction) and systems that verify users by asking them to select all of the images. With the development of machine learning, one of the most popular services is Google's reCaptcha. And what about hCaptcha?
In this post, we find out why and how to integrate hCaptcha in your site's contact form in just a few clicks, thanks to the WPForms plugin that helps to protect your site from spam and possible cyber attacks.
How does the reCAPTCHA work?
reCAPTCHA by Google is a CAPTCHA system that helps you detect abusive traffic on your website and allows computer systems to distinguish between human and automated access.
The first version asked users to repeat and click the matching images or decipher hard-to-read text (distorted or obscured) to reduce spam. Thanks to machine learning, reCAPTCHA now recognizes whether a human or a bot is attempting to access the site with a simple click of the mouse.
hCaptcha vs. reCAPTCHA
hCaptcha is an anti-bot solution system that can be used on WordPress contact forms and help build a better web. It is a free alternative to reCAPTCHA, and it became increasingly popular above all because it's privacy-oriented. Indeed, the privacy policy of this service is compatible with recent regulations such as GDPR and CCPA.
The anti-bot hCaptcha uses sophisticated machine learning and artificial intelligence to help distinguish human users from spam. At the same time, one of the main goals is to protect the privacy of users. How? Avoiding data collection. According to this useful tool mission, hCaptcha takes care only of spam protection. For that reason, it doesn't perform any additional analysis, and data are owned only by the publisher.  
Moreover, hCaptcha is a popular alternative to Google's reCAPTCHA, especially for those who do not have or do not want to open a Google account, or for those who want to try a different way to block spam and malicious traffic that regularly reach websites and contact forms.
hCaptcha is free for small publishers and website owners, while it offers premium solutions for more structured companies. This service also has an active program that rewards websites for using the hCaptcha widget.
How to integrate hCaptcha on your contact form with WPForms
Installed on over 4 million sites, WPForms is the best WordPress forms plugin and one of the main tools to install in a WordPress site.
WPForms, in fact, offers countless possibilities such as multi-step WordPress forms, conversational contact forms, easy integration with the major payment systems like Paypal a Stripe, or with software and CRM like SalesForce.
Recently WPForms introduced its new hCaptcha integration, available for all users starting from WPForms v1.6.4 release.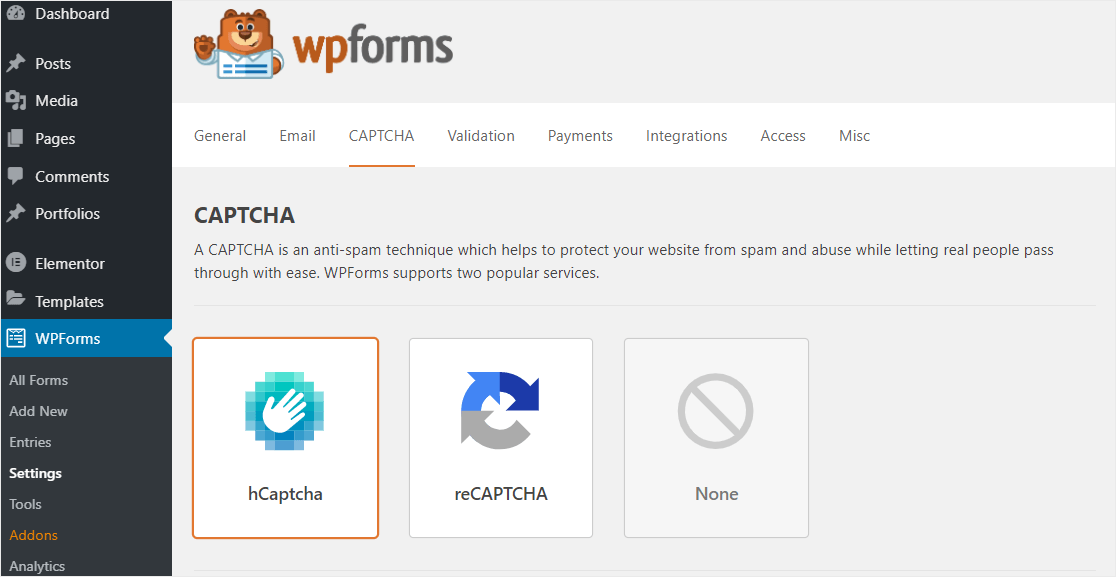 It is important to consider that the WPForms plugin already provides users with advanced systems to block spam. It can easily integrate these options with the additional solutions offered by reCaptcha or hCaptcha. However, in the WPForms settings, you can now choose between the hCaptcha or Google's reCAPTCHA option too. For sure, it is a possibility highly appreciated by many WordPress users.
The hCaptcha integration looks really similar to reCAPTCHA, so user experience always comes first. Moreover, you can adjust the error message, enable No-Conflict mode and preview how the CAPTCHA will be displayed.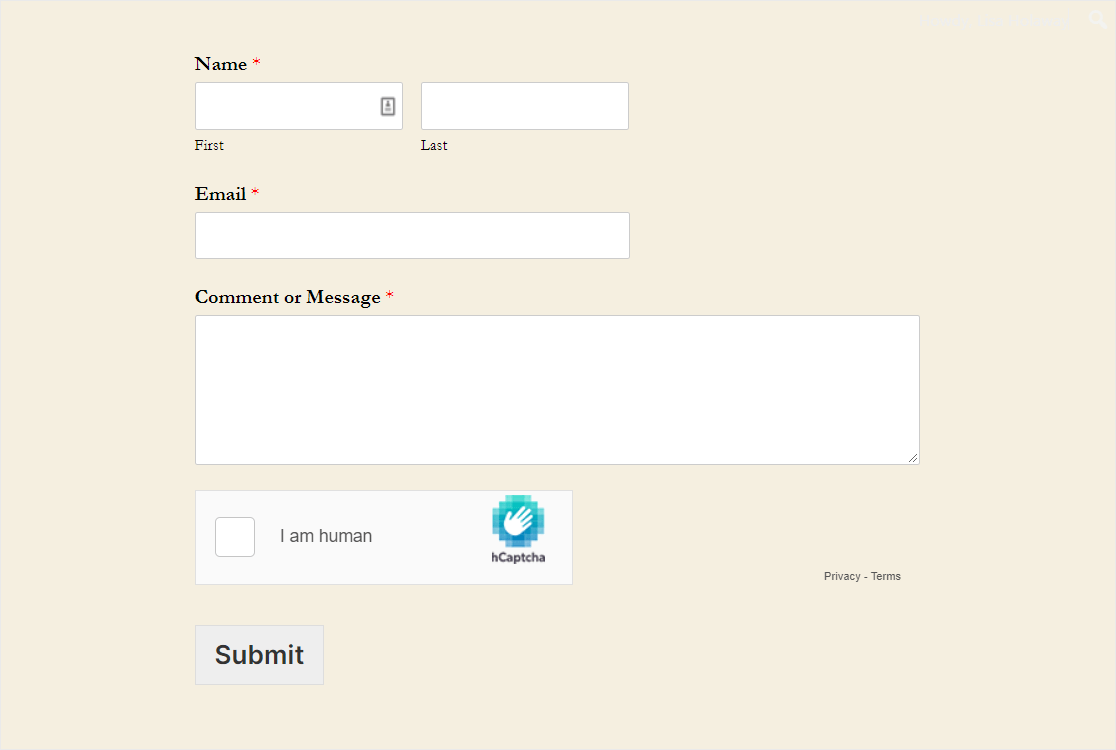 The contact form made with WPForms always stands out for being very professional and adaptable to the website or content style where it is installed.
In the WPForms dashboard once you have selected the type of captcha service you intend to use you will be able to recall it from the form settings.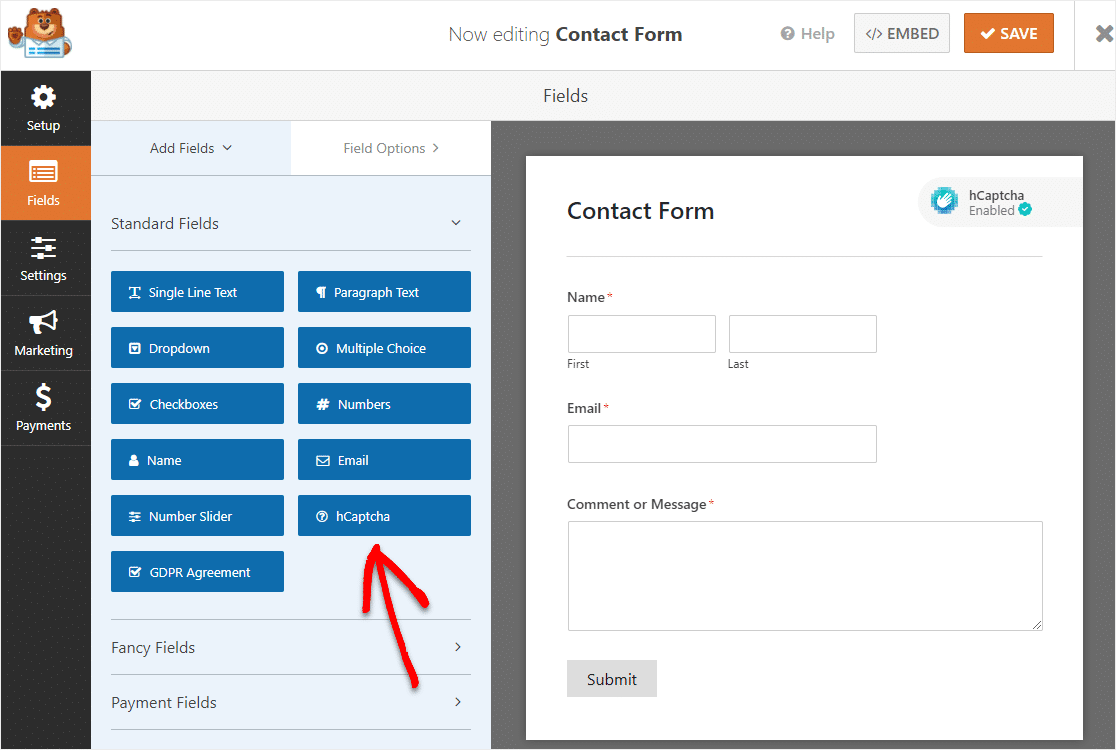 One of the main objectives of WPForms has always been to make it easier to manage WordPress websites. Certainly, this new integration of hCaptcha on WPForms allows you to extend the functionality offering a new way to protect your contact forms from bots, spam and intrusions while keeping your data safe.
WPForms plugin is available with 4 licenses: Basic (for 1 website ), Plus (for 3 websites), Pro (for 5 websites), and Elite (for an unlimited number of sites). Pricing starts at $ 79/year (discounted to $ 39.50/year with the 50% OFF promotion).