How to Add Google Analytics in WooCommerce with MonsterInsights to Increase Sales
There is no doubt: analyzing your site's statistics with Google Analytics allows you to know your audience better. Indeed, if you can understand your visitors' behavior, you can create an effective strategy and more exciting content. Analyzing becomes even more important if your goal is to improve the performance of an eCommerce platform built on WordPress through WooCommerce and increase sales.
But how to simplify things and have the analysis of your website under control? You can easily add Google Analytics in WooCommerce with MonsterInsights, the best plugin that can support you in the analysis without leaving the WordPress dashboard. And it's not over. By enabled Google Analytics Enhanced eCommerce tracking, you can get detailed insights that make the difference to grow your business.
But why use MonsterInsights for this integration? The analysis of statistics is the beating heart of an eCommerce, and it provides detailed information on how customers behave. Only by knowing your audience, your website can convert more and consequently increase revenue. At the same time, however, analysis can become a very complicated and dispersive activity. There is a lot of information, and it is not always possible to identify the most important ones.
That's why, in this post, we see how the MonsterInsights analytics plugin simplifies things by integrating Google Analytics Enhanced eCommerce tools into your online store.
Google Analytics Enhanced eCommerce: how it works and why to activate this e-commerce tracking
As you may have understood, statistics tracking is possible through various tools. First of all, let's see the differences between traditional eCommerce tracking and Google Analytics Enhanced eCommerce tracking. We will also focus on additional analyzes that can be done with this tool.
Compared to traditional eCommerce tracking, Enhanced eCommerce tracking is an advanced Google Analytics option that offers a more in-depth and detailed analysis of your customers' purchasing behavior. In addition to the usual e-commerce analyzes on revenue, conversions, and cart value, this tool offers an overview of the product list and sales performance and a better understanding of product categories and customer behavior both in the shopping process and at the checkout.
Furthermore, the Enhanced eCommerce tracking option also helps you to get more detailed reports on campaigns, product pages, and product performance for upselling / cross-selling actions. Important insights are also provided on transactions and cart abandonments.
If you are also looking for a solution to analyze exit intent and improve your conversion rate, take a look at the OptinMonster plugin. This tool provides a whole series of popups and instruments to improve the average time spent on your website and conversions.
Enhanced eCommerce tracking is an optional feature in Google Analytics really useful also for eCommerce sites that uses coupon codes or an affiliate program to boost sales. Indeed, this tool sheds light on tracking revenue generated from these two marketing initiatives, becoming truly essential.
As you can imagine, the advantages of activating Google Analytics Enhanced eCommerce tracking are many, but to make things easier and save time is better to integrate this tool into the WordPress dashboard. How? By using MonsterInsights, a powerful WP analysis plugin.
MonsterInsights – Google Analytics Plugin for WordPress
MonsterInsights is the best Google Analytics plugin for WordPress that simplifies statistical analysis without programming and coding. It shows you only the analyzes that matter directly on your WordPress website's dashboard in a few clicks.
This way, you can get to know your users better, analyze statistics in real-time, and make accurate decisions, saving time and energy.
This analytics plugin for WordPress is undoubtedly one of the top WP plugins to install if you want to take your eCommerce to the next level. Over 2 million experts have already installed this tool, with over 12 million downloads.
In particular, MonsterInsights supports you in integrating Google Analytics Enhanced eCommerce tracking on your WooCommerce website. In just a few clicks, you can receive many insights. For example, you can understand which products work and which don't, at what stage of the payment process your users abandon the cart, and how to optimize your eCommerce categories and pages. What happens on your eCommerce site will no longer be a mystery!
How to set up Google Analytics Enhanced eCommerce tracking in WooCommerce with MonsterInsights
You can configure Google Analytics in WooCommerce in a few simple steps.
First of all, install the MonsterInsights plugin to set up Google Analytics on your site without any code and get detailed reports on your dashboard.
Go to Insights > Addons > eCommerce to activate the MonsterInsights eCommerce addon and set up Enhanced eCommerce tracking on WooCommerce
Go to Google Analytics, select the website where you want to activate Enhanced eCommerce tracking. Go to Admin> Ecommerce Settings, enable Ecommerce (ticking both Status and Related Products), then check Enable eCommerce Settings and click on activate.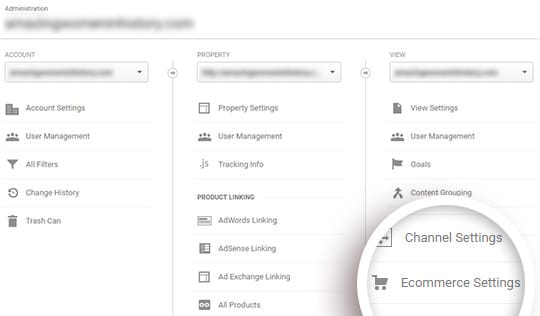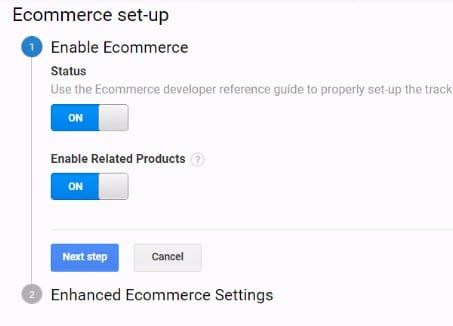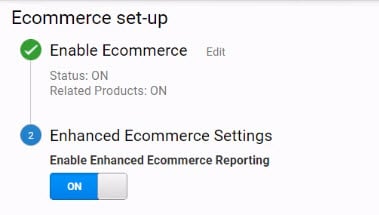 Finally, go back to your WordPress dashboard, go to MonsterInsights (Insights> Settings), and select eCommerce in the top menu. At this point, check the Use Enhanced eCommerce option. That's it! You are ready to know more about statistics and grow your business!
MonsterInsights prices
As you will have understood, MonsterInsights is a powerful plugin that can make a difference for anyone involved in marketing or having an online store.
In addition to the free version of MonsterInsights, 3 other plans are available: Plus, Pro, and Agency. The Plus starts at € 99 per year (discounted by 50%). The MonsterInsights WooCommerce option is included starting from the Pro plan. You can try the MonsterInsights plugin right now, benefiting from 14-day no-questions-asked refund policy. Find out all the licenses here